Shelton Machinery
http://www.sheltonmachinery.com/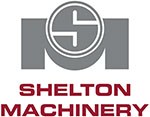 Shelton Machinery has been serving metalworking shops with total manufacturing solutions since 1988.
We provide comprehensive sales, service and support for Mazak machine tools to customers in Indiana, Kentucky. Now we also serve metalworking shops in Kansas and western Missouri via our recent acquisition of Concept Technical Sales, Inc., a 25-year Mazak distributor in Overland Park, Kansas.
Platinum Sponsor
The kindness of platinum sponsors like Shelton Machinery fill our hearts with happiness.
Thank You!