Bishop Chatard High School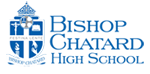 Bishop Chatard High School, the Archdiocesan High School of the North Deanery of Indianapolis, welcomes all students who seek a challenging, authentic Catholic education. Academic excellence supported by faith formation creates a unique learning environment to nurture development of the whole person. A robust student life program challenges every student, beginning in the freshman year, to try new things.
We recognize that no two students are the same, and our teachers and administrators strive to make the Bishop Chatard experience as unique as each individual. Young people are encouraged to be who they truly are, while also spending time learning who God is calling them to be. Year after year, Bishop Chatard is the high school chosen most often by North Deanery families.